Amukura Cassava Aggregation Center |Link to Market
Posted on January 31, 2022

Amukura cassava aggregation center was established on April 4th, 2021 to support over 2000 cassava farmers in building capacity. The center was formed to process and provide farmers with a readily available market for cassava tubers. It started with 535 farmers from 10 different farmer groups in Amukura East ward.  This comprised of 75% women and 25% men farmers.
"The idea to start an aggregation center came from an existing market gap in cassava production. In 2019, PlantVillage introduced a mobile technology that helped farmers to identify cassava diseases which had lowered production significantly. Most farmers adopted the technology and our cassava yields increased. There was no place to take the surplus. We sat down as a group and decided to form the only aggregation center so far in Amukura."  Explains Victoria Nafula, secretary in the aggregation center.
Amukura aggregation center is supported through its partnership with international organizations.
"Ugunja Resource Center in collaboration with Self Help Africa supported us with a cassava chipper machine. We collectively contributed money and purchased drying racks and other equipment. PlantVillage came in and supported us with initial capital to purchase tubers. We started operating on 4th August."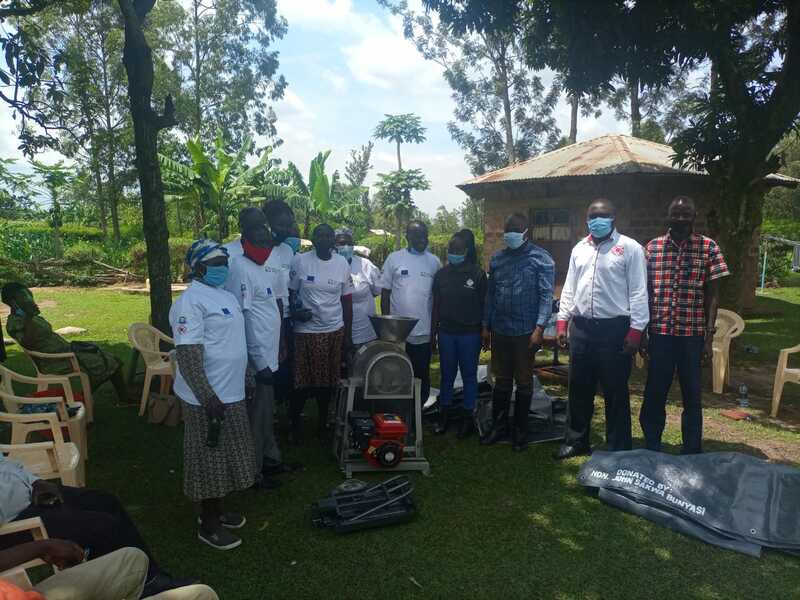 Impact
The Aggregation has reduced household poverty and improved sustainable livelihood for small holder cassava farmers particularly women in Amukura, Busia County. The center procures fresh tubers (5 Ksh per kg) from members in the group as well as other farmers in the community. They peel, wash, chip and then dry openly in racks.
Since its inception, they have sold 4600 tonnes of dried cassava chips to TruTrade enterprise and milling companies from Nairobi. In every sale, the group sells at list 1 tonne and makes a profit of Ksh 7000-10000. The chips are sold at a price range of 27-28 Ksh per kilogram.
They aggregation has created job opportunities for women and youths in the community to peel and wash the tubers at a minimum wage.
"This is just the beginning. We not only hope to provide market to cassava farmers in Teso South Sub County but also the entire County of Busia." Concludes Victoria.
Written By; Mercyline Tata