Carbon Farming
PlantVillage through Carbon4Good Company aim to capture carbon at scale with farmer, through regenerative organic agriculture for soil-carbon sequestration and agroforestry practices that increase biomass and carbon capture on farm. PlantVillage, through the Dream Team works with and encourages farmers to practice no-till agriculture, integrated pest management, cover crops and intercropping to maximize ecological services on farm.
In a proactive effort to mitigate climate change, PlantVillage encourages and support farmers to adapt by practicing agroforestry. Agroforestry refers to growing woody perennial and crops and rearing animals in the same environment for ecological and economic benefits.
The Agroforestry team supplies farmers with healthy tree seedlings, and the resources needed to establish successful agroforestry in their farm. PlantVillage through the Dream Team aims to plant millions of trees that will capture carbon from atmosphere and store it in the soil. Farmers and pastoralist can earn income by selling carbon credit through Carbon4Good Company.
Nursery Establishment in Kenya
PlantVillage has distributed and planted more than 129000 trees to farmers and public institutions like school from Busia, Kilifi and Bungoma Counties. PlantVillage through the Dream Team partnered with Kenya Forest Service in Busia County to establish a tree nursery. Located in Machakus, the nursery has grevillea tree seedlings. Grevillea Robusta is one of the most preferred trees species for agroforestry in Kenya. The average survival rate of Grevillea trees in Kenya varies between 37 to 84% (Tefera et al., 2001).
Agroforestry increase above ground biomass and carbon capture on farm. On average a 15 year Grevillea Robusta can sequester about 187kg of carbon in above ground biomass alone (P.Pravalprukskul, 2015).
Crowdsource Monitoring with AI powered Mobile Application
A beta version of an android app has been developed for the registration of trees, tracking and monitoring of tree growth. The Dream Team collects baseline assessment surveys for farmers who planted the trees seedling in order to track and monitor the trees just like we do for pest and diseases. The current beta version in PlantVillage Nuru application has three major functions (1) Plant a Sapling, (2) Add an Existing Tree, and finally (3) Log Tree Growth. The Plant a Sapling functions allows users to register a new planted tree in the PlantVillage database, the Add an Existing Tree functions allows users to add an already existing tree to the PlantVillage database for monitoring, and finally the Log Tree Growth function allows users to report on the growth of trees.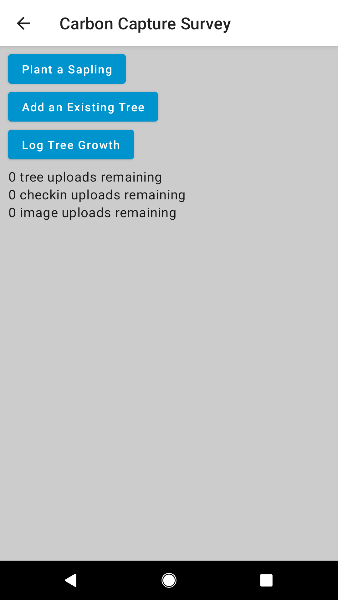 For more information, visit our website Carbon4Good
Pravalprukskul, P. (2015). Sustainable Development in Agriculture: Agricultural development in smallholder systems (Doctoral dissertation, Master Thesis.(CIRAD)).
Tefera, A. T., Rao, M. R., Mathuva, M. N., & Atta-Krah, K. (2001). Farmer-participatory evaluation of Grevillea robusta in boundary plantings in semi-arid Kenya. Forests, Trees and Livelihoods, 11(1), 13-27